News From the Tool Box, June 2022: Jeremy and Tanya Lott
News From the Tool Box June 2022
  

Dear friends and partners,

   Here we are in June already! Now that winter is done and things are opening up, we hope that you are better able to fellowship with others and can look forward to special summer plans. Although we are heading into our "cold season" we feel like it's summer here because the school year just finished and we are looking forward to the children having a 7 week school break. And let's face it, even our winter is warm and summer-like! I know, its tough!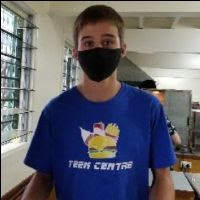 The boys have enjoyed their schooling and are reaping the rewards of their hard work. Also, with many Covid restrictions lifting, they have enjoyed being able to have sports tournaments, music concerts, and traditional activities again.
   Steven will start in Grade 7 next school year. He is very social and often gets together with friends after school and on weekends. He plays any sport he can and also plays the trumpet in the middle-school band.
   Seth works hard in school, and it has paid off. He will start grade 10 in July.
His whole class often gets together as a group outside of school to hang out. He joined choir this year, and is also learning to play the guitar. He and a friend have a water tank cleaning business, and he also works at our Teen Centre Hamburger nights that are held periodically throughout the year.
 
  

Daniel will start grade 12 this coming school year! He will also be one of two managers for Hamburger night. He will start the hiring process soon, hiring younger school mates. It's great that he can get that experience.

   He and Seth both enjoyed playing Rugby this year. He will shortly be getting his PNG drivers license and enjoys driving his 1979 Honda civic around our centre.

   A tradition that they have here is "Banquet", where the parents put on a special dinner and evening for the grade 11 and 12 students. Daniel enjoyed the fun night with his other classmates, and as a parent, we are happy to be done that for this year, as it's a lot of work!


  

The Autoshop has continued to be very busy. We have great news! The Autoshop manager made it back to PNG with is wife and new baby. It is wonderful to have someone fill this role, and take over all those responsibilities. He has big and wonderful plans for the shop. As well, the new automotive mechanic Danny, and his young family have also arrived! After they finish their cultural orientation in July, he will join and share Jeremy's role. This is a HUGE answer to prayer. Please do pray for Jeremy with his heavy work load. Also, pray for Rycos, who is a Papua New Guinea (PNG) man. Jeremy is training him to work in the Parts Room. This is a challenging job to learn, yet it's crucial for the shop to be able to get the right parts for the diverse group of vehicles here.

 

  I (Tanya) continue to enjoy working as lead receptionist at the clinic. It keeps me quite busy, especially the challenge we face with often having only one doctor for a community of hundreds of people. Please pray for Dr. Carl as he tries to meet all the needs. Also, pray for more doctors and a dentist to come!

I had the unique experience of going with my friend Camille for a medevac to Kudjip International hospital in PNG. We tried to go by helicopter so that we could land directly at the hospital. However, bad weather prevented us from landing. We then went by plane. She was able to get the surgery she needed and has recovered well. As one of the medevac co-coordinators, I feel I can much better advise families on how to pack/prepare for an in-country medevac. It was also wonderful to see how our aviation, MAF and the missions hospital all work together to help those in need. It's wonderful to be part of the family of God

!
  

Lastly, we had our biennial conference in March. It was a good time for our organization to give updates about the work that is happening here. One thing we heard a lot was how Covid had changed/cancelled plans, and yet — God still accomplished a lot! On the last day of conference there was a parade of Bibles, audio-Bibles, and portions of Scriptures that had been translated in the last 2 years. God's Word, now available to various language groups for the first time. Please pray that the PNG people who receive these Bibles will have transformed lives. Please continue to pray for the many more translations going on right now. As you can imagine, there is spiritual opposition to bringing Gods Word to people.

Praise with us: We have more staff at the Auto Shop.The boys finished another year at schooling. For Bible translation progress in spite of Covid pandemic.

Pray with us:  It's "cry week". The boys are saying goodbyes to close friends leaving for furlough. Pray for Jeremy and his heavy workload, and for Rycos to learn his new role well in parts research/ordering. For more workers on the field, especially doctors, a dentist, and many more teachers.

Thank you for your prayer, gifts and encouragement,

Jeremy, Tanya, Caleb, Daniel, Seth, and Steven